Hydreon Optical Rain Sensor
Use it to measure rainfall or to close a skylight when it starts raining
Rain Gauge Model RG-11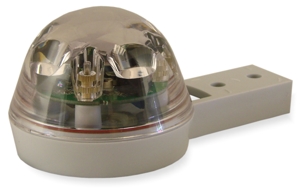 The RG-11 Rain Gauge senses water hitting its outside surface using beams of infrared light. It uses the same sensing principle used in millions of automotive rain sensing windshield wiper controls. Consequently, it is remarkably inexpensive, at just $59 for a single unit.
The RG-11 is optical– not mechanical, chemical, or conductive. Consequently, it is far more rugged, sensitive and reliable than any other technology. The sensor is extremely sensitive, and virtually immune to false trips. Yet, it is completely unaffected by jostling and motion. There are no exposed conductors to corrode, and no openings for bugs to crawl into. There is no place for leaves or other debris to collect.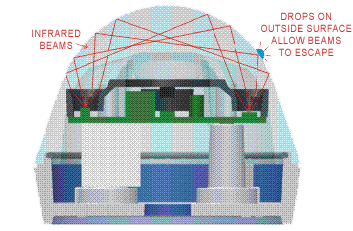 The patent-pending Rain Gauge optical design keeps the beams inside the sensor, away from the influences of falling leaves and spiderwebs.
Applications for the Rain Gauge
The RG-11 Rain Gauge is suitable for almost any application that requires a reliable and sensitive rain sensor, including: